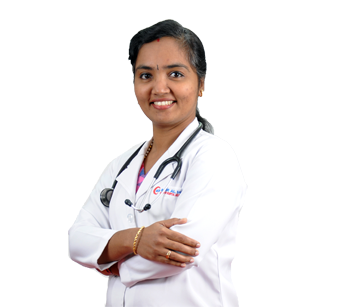 DR SIMNA MARYAM P.H
Medical Officer
General Practice
MBBS
12 years of experience
Nizwa (Oman)
About DR SIMNA MARYAM P.H
Dr. Simna Maryam has been working with Badr Al Samaa Group of Hospitals since 2010 as a General Practitioner. She acts as a backbone to the ER team and brings her experience of working with a Community Health Center here. Her extreme dedication and service in emergency cases make her an outstanding doctor. As expected, she is very proficient in dispensing emergency medical care as well as in carrying out minor surgical procedures. Her training has also given her extensive experience in the critical management of stroke and epilepsy cases.
Excellence & Experience
Area of excellence
Emergency medicine
ER procedures including minor surgical procedures
Level of Experience
Worked as Medical Officer in Community Health Centre (2007-2008)
Worked as Junior Resident in Department of Neuromedicine in a Multispecialty hospital
Specialized in Stroke and Epilepsy management.
Working with Badr Al Samaa Group of Hospitals since 2010
Awards & Academics
Academics Details
Graduated from TD Medical College, Alappuzha, Kerala - 2007
Out Patient Timings
The outpatient timings at Badr Al Samaa Hospitals have been planned in such a way that your choice of doctor is available whenever you are free.
Sunday
7:00 AM - 3:00 PM
Nizwa - Oman
3:00 PM - 11:00 PM
Nizwa - Oman
Monday
7:00 AM - 3:00 PM
Nizwa - Oman
3:00 PM - 11:00 PM
Nizwa - Oman
Tuesday
7:00 AM - 3:00 PM
Nizwa - Oman
3:00 PM - 11:00 PM
Nizwa - Oman
Wednesday
7:00 AM - 3:00 PM
Nizwa - Oman
3:00 PM - 11:00 PM
Nizwa - Oman
Thursday
7:00 AM - 3:00 PM
Nizwa - Oman
3:00 PM - 11:00 PM
Nizwa - Oman
Friday
7:00 AM - 3:00 PM
Nizwa - Oman
3:00 PM - 11:00 PM
Nizwa - Oman
Saturday
7:00 AM - 3:00 PM
Nizwa - Oman
3:00 PM - 11:00 PM
Nizwa - Oman