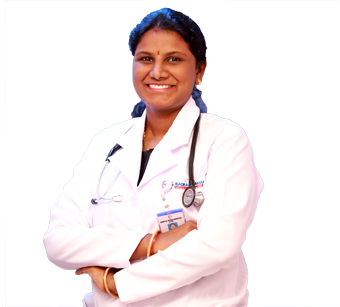 DR JYOTHI PERURI
MBBS, General Practice
Medical Officer
6 years of experience
Nizwa (Oman)
About DR JYOTHI PERURI
Dr Jyothi has been offering excellent care for her patients at Badr Al Samaa in Nizwa, Oman since 2017. Always having been an outstanding student, she carries on the mantle of brilliant and intelligent medical care for the society. Her expertise lies in meticulous handling of all types of emergency cases. She is an expert at handling head injuries, myocardial infarction, endotracheal intubation, tracheotomy, fasciotomy, excision and drainage, incision and drainage, suturing, venous cut-downs, ACLS and BLS protocols, etc.
Excellence & Experience
Area of excellence
Surgery
Accident and Emergency
Obstetrics and Gynaecology
Level of Experience
Duty Medical Officer – Sri Venkataramana Nursing Home, Amalapuram, A.P., India - 2013 to 2017
Junior Resident - Aarupadai Veedu Medical College Hospital, Puducherry, India - 2013 to 2014
Internship - Aarupadai Veedu Medical College Hospital, Puducherry – 2012-2013
Awards & Academics
Academics Details
MBBS – Aarupadai Veedu Medical College (Vinayaka Missions University), Puducherry - 2013
Videos of DR JYOTHI PERURI
You can get to know more details here about the doctor who will be treating you, and their professional expertise in their field of specialisation.
Top Procedures Done By DR JYOTHI PERURI
Out Patient Timings
The outpatient timings at Badr Al Samaa Hospitals have been planned in such a way that your choice of doctor is available whenever you are free.
Sunday
7:00 AM - 3:00 PM
Nizwa - Oman
3:00 PM - 11:00 PM
Nizwa - Oman
Monday
7:00 AM - 3:00 PM
Nizwa - Oman
3:00 PM - 11:00 PM
Nizwa - Oman
Tuesday
7:00 AM - 3:00 PM
Nizwa - Oman
3:00 PM - 11:00 PM
Nizwa - Oman
Wednesday
7:00 AM - 3:00 PM
Nizwa - Oman
3:00 PM - 11:00 PM
Nizwa - Oman
Thursday
7:00 AM - 3:00 PM
Nizwa - Oman
3:00 PM - 11:00 PM
Nizwa - Oman
Friday
7:00 AM - 3:00 PM
Nizwa - Oman
3:00 PM - 11:00 PM
Nizwa - Oman
Saturday
7:00 AM - 3:00 PM
Nizwa - Oman
3:00 PM - 11:00 PM
Nizwa - Oman
Blogs Written by DR JYOTHI PERURI