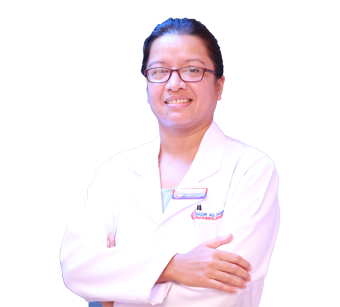 DR HARSHA H SHUKLA
Specialist Ophthalmology
Ophthalmology
MBBS, MS
16 years of experience
Nizwa (Oman)
About DR HARSHA H SHUKLA
Dr. Harsha H Shukla is a lady of many talents. She completed her training from some of the best medical colleges in India. She is not only a great clinician par excellence but also an expert teacher of undergraduate and postgraduate medical students. In her 16 years of experience across various prestigious medical colleges and hospitals across India and Malaysia, she has also been involved in a number of screening camps and community ophthalmology programs. Dr Harsha is also an expert in Diabetic and Hypertensive Retinopathy screening, post-operative care and emergency trauma care.
Excellence & Experience
Area of excellence
Management of Anterior segment disorders
Refractive errors
Diabetic and Hypertensive Retinopathy screening
Emergency trauma care and External FB removals
Post-operative care
Level of Experience
Resident Ophthalmologist in Manipal Hospital, Bangalore
Assistant Professor in Melaka Manipal Medical College, Malaysia
Assistant Professor in MVJ Medical College, Hoskote, India
Opthalmologist, Badr Al Samaa Hospital from 2011 till date
Awards & Academics
Academics Details
MBBS Kasturba Medical College, Manipal 1999
MS Kasturba Medical College, Mangalore 2002
Out Patient Timings
The outpatient timings at Badr Al Samaa Hospitals have been planned in such a way that your choice of doctor is available whenever you are free.
Sunday
9:00 AM - 1:00 PM
Nizwa - Oman
5:00 PM - 9:00 PM
Nizwa - Oman
Monday
9:00 AM - 1:00 PM
Nizwa - Oman
5:00 PM - 9:00 PM
Nizwa - Oman
Tuesday
9:00 AM - 1:00 PM
Nizwa - Oman
5:00 PM - 9:00 PM
Nizwa - Oman
Wednesday
9:00 AM - 1:00 PM
Nizwa - Oman
5:00 PM - 9:00 PM
Nizwa - Oman
Thursday
9:00 AM - 1:00 PM
Nizwa - Oman
Friday
5:00 PM - 9:00 PM
Nizwa - Oman
Saturday
9:00 AM - 1:00 PM
Nizwa - Oman
5:00 PM - 9:00 PM
Nizwa - Oman