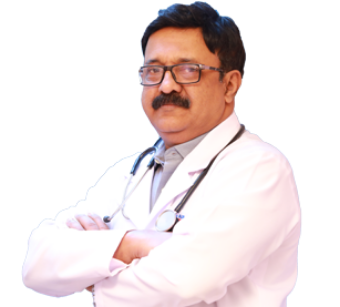 DR REGHU KUMAR .R
MS, FMAS, General & Laparoscopic Surgery
Surgeon
26+ years of experience
Nizwa (Oman)
About DR REGHU KUMAR .R
Dr Reghu Kumar has immense experience in the field of surgery with both clinical as well as teaching experience. He has hands-on training and fellowship in Bariatric Surgery and has conducted Laparoscopic training programs for Post-Graduate students of Surgery. His areas of expertise include diagnostic and therapeutic Endoscopic procedures as well as Laparoscopic procedures. Aside from minimal access surgery, he is also proficient in open surgical procedures and is an asset to the surgical team at Badr Al Samaa. Dr Reghu believes in keeping himself updated and regularly attends national and international conferences and workshops.
Excellence & Experience
Area of excellence
Diagnostic and Therapeutic Endoscopic Procedures
Basic and Advanced Laparoscopic Procedures
General Surgical Procedures
Level of Experience
Tutor – Cardiothoracic Surgery Department, Kottayam Medical College - 1983-1986
Tutor – Urology Department – 1986-1989
Lecturer, Additional Professor – Department of Medical Surgery, Medical College, Thiruvananthapuram – 1996-2016
Awards & Academics
Academics Details
MBBS – Patliputra Medical College, Dhanbad – 1981
MS General Surgery - Mahe University, Manipal – 1993
Fellowship in Minimal Access Surgery
Videos of DR REGHU KUMAR .R
You can get to know more details here about the doctor who will be treating you, and their professional expertise in their field of specialisation.
Top Procedures Done By DR REGHU KUMAR .R
Out Patient Timings
The outpatient timings at Badr Al Samaa Hospitals have been planned in such a way that your choice of doctor is available whenever you are free.
Sunday
9:00 AM - 1:00 PM
Nizwa - Oman
5:00 PM - 9:00 PM
Nizwa - Oman
Monday
9:00 AM - 1:00 PM
Nizwa - Oman
5:00 PM - 9:00 PM
Nizwa - Oman
Tuesday
9:00 AM - 1:00 PM
Nizwa - Oman
5:00 PM - 9:00 PM
Nizwa - Oman
Wednesday
9:00 AM - 1:00 PM
Nizwa - Oman
5:00 PM - 9:00 PM
Nizwa - Oman
Thursday
9:00 AM - 1:00 PM
Nizwa - Oman
5:00 PM - 9:00 PM
Nizwa - Oman
Friday
Saturday
9:00 AM - 1:00 PM
Nizwa - Oman
5:00 PM - 9:00 PM
Nizwa - Oman
Blogs Written by DR REGHU KUMAR .R