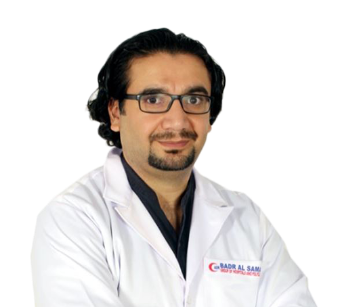 Dr Mohammed Al Khatheeb Kheer Ahmad
Specialist General & Laparoscopic Surgery
General & Laparoscopic Surgery
MD, MS
8 years of experience
Nizwa (Oman)
About Dr Mohammed Al Khatheeb Kheer Ahmad
Dr. Mohammed Kheer Ahmad Al Khateeb is a well experienced surgeon with good clinical expertise and knowledge. He studies from premier colleges. He deals with various advanced and complex procedures with good success rate.

Excellence & Experience
Area of excellence
Thyroid surgery
Laparoscopic Surgery
Treatment of Hemorrhoids, Fissurectomy and Hernia
Breast Surgeries, Fistula & Colon Surgeries
Laparoscopic Colectomy , appendectomy
All types of Laproscopic surgeries
Awards & Academics
Academics Details
Diploma in Medicine, Damascus University, Syria (2006)
MD; Masters Degree in Surgery, Damascus University, Syria (2012)
Out Patient Timings
The outpatient timings at Badr Al Samaa Hospitals have been planned in such a way that your choice of doctor is available whenever you are free.
Sunday
9:00 AM - 1:00 PM
Nizwa - Oman
5:00 PM - 9:00 PM
Nizwa - Oman
Monday
9:00 AM - 1:00 PM
Nizwa - Oman
5:00 PM - 9:00 PM
Nizwa - Oman
Tuesday
9:00 AM - 1:00 AM
Nizwa - Oman
5:00 PM - 9:00 PM
Nizwa - Oman
Wednesday
9:00 AM - 1:00 PM
Nizwa - Oman
5:00 PM - 9:00 PM
Nizwa - Oman
Thursday
9:00 AM - 1:00 PM
Nizwa - Oman
5:00 PM - 9:00 PM
Nizwa - Oman
Friday
Saturday
9:00 AM - 1:00 PM
Nizwa - Oman
5:00 PM - 9:00 PM
Nizwa - Oman