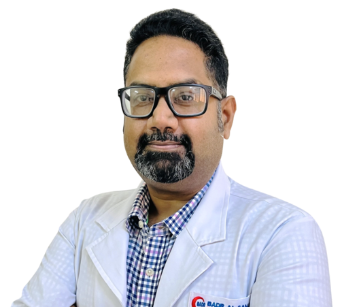 DR Dinesh Jayaram
Specialist Dermatologist
Dermatology
MBBS, MD
5 years of experience
Nizwa (Oman)
About DR Dinesh Jayaram
After completing his MD, Dr. Dinesh Jayaram pursued his Fellowship at the CUTIS Academy of Cutaneous Sciences in Bengaluru where he received his training in Dermato-Surgical Procedures like Hair Transplantation, Vitiligo Surgery and Nail Surgery. His experience included hands on training in Aesthetic Dermatology and Laser Therapy including Ablative lasers (Fractional CO2 and Er:YAG), Non-ablative lasers (Er:Glass), Pigmentary laser (Q-switched Nd:YAG) and Hair removal lasers (Long pulsed Nd:YAG and Diode).
He is an active member of the Indian Medical Association (IMA), Indian Association of Dermatologists, Venereologists and Leprologists (IADVL) and Association of Cutaneous Surgeons of India – ACS (I).

Excellence & Experience
Area of excellence
PRP Therapy for Hair Loss
Laser Hair Reduction for Excessive Facial Hair
Chemical Peel for Hyperpigmentation
Microneedling for Acne Scars
Nail Surgery for Ingrowing Toe Nail
Intralesional Injection for Keloids and Patchy Hair Loss
Electrocautery for Warts and Skin Tags
Skin Biopsy
Clinical Dermatology and Paediatric Dermatology
Ear Piercing
Cryotherapy
Laser Therapy for Scars
Level of Experience
He has practiced in top and well recognized hospital and medical institutions before joining Badr Al Samaa Group of Hospitals.
Awards & Academics
Academics Details
MBBS; Government Medical College Thiruvananthapuram, Kerala, India (2010)
MD Dermatology, Venereology and Leprosy; K. S. Hegde Medical Academy, Mangaluru, Karnataka, India (2016)
Fellowship in Dermatosurgery (FRGUHS) done in Cutis Academy of Cutaneous Sciences under Rajiv Gandhi University, Karnataka, India
Out Patient Timings
The outpatient timings at Badr Al Samaa Hospitals have been planned in such a way that your choice of doctor is available whenever you are free.
Sunday
9:00 AM - 1:00 PM
Nizwa - Oman
5:00 PM - 9:00 PM
Nizwa - Oman
Monday
9:00 AM - 1:00 PM
Nizwa - Oman
5:00 PM - 9:00 PM
Nizwa - Oman
Tuesday
9:00 AM - 1:00 PM
Nizwa - Oman
5:00 PM - 9:00 PM
Nizwa - Oman
Wednesday
9:00 AM - 1:00 PM
Nizwa - Oman
5:00 PM - 9:00 PM
Nizwa - Oman
Thursday
9:00 AM - 1:00 PM
Nizwa - Oman
5:00 PM - 9:00 PM
Nizwa - Oman
Friday
Saturday
9:00 AM - 1:00 PM
Nizwa - Oman
5:00 PM - 9:00 PM
Nizwa - Oman