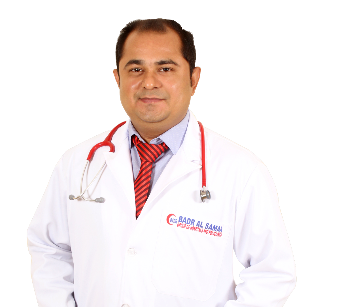 DR MAKARAND MOHANRAO JEWRIKAR
Specialist Pediatrician
Paediatrics & Neonatology
MBBS, DCH, DNB
Nizwa (Oman)
About DR MAKARAND MOHANRAO JEWRIKAR
Dr. Makarand Jewrikar is a Pediatrician and a Neonatologist with vast experience in treating conditions associated with children. He is experienced in treating the complications that arise with Very Low Birth Weight Newborns, Preterm Babies, Seizure disorders, Epilepsy and pediatric gastrointestinal disorders. His areas of special interest include pediatric infectious diseases, childhood Asthma and Nutrition and Growth in children. Dr Makarand has attended many conferences and workshops to stay updated with the latest medical guidelines. He has conducted workshops on Pediatric and Neonatal Emergencies (PALS) too.
Excellence & Experience
Area of excellence
Pediatric Infectious Diseases
Neonatology
Childhood Asthma
Nutrition & Growth in Children
Level of Experience
Dr. Makarand has served in government hospitals as well as corporate hospitals in India. He has worked in tertiary care centres with high-end NICU & PICU facilities.
Awards & Academics
Academics Details
MBBS – GMC Aurangabad - 2006
DCH (Pediatrics) – VNGML, Yavatmal - 2011
DNB (Pediatrics) - JLN Hospital, SAIL, BHILAI - 2013
Out Patient Timings
The outpatient timings at Badr Al Samaa Hospitals have been planned in such a way that your choice of doctor is available whenever you are free.
Sunday
10:00 AM - 2:00 PM
Nizwa - Oman
5:00 PM - 9:00 PM
Nizwa - Oman
Monday
10:00 AM - 2:00 PM
Nizwa - Oman
5:00 PM - 9:00 PM
Nizwa - Oman
Tuesday
10:00 AM - 2:00 PM
Nizwa - Oman
5:00 PM - 9:00 PM
Nizwa - Oman
Wednesday
10:00 AM - 2:00 PM
Nizwa - Oman
5:00 PM - 9:00 PM
Nizwa - Oman
Thursday
10:00 AM - 2:00 PM
Nizwa - Oman
5:00 PM - 9:00 PM
Nizwa - Oman
Friday
Saturday
10:00 AM - 2:00 PM
Nizwa - Oman
5:00 PM - 9:00 PM
Nizwa - Oman